Laurent Montaron
du 18 au 20 novembre 2011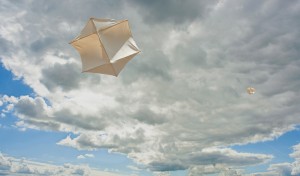 The performance The Invisible message is a reenactment of the first experiment of a wireless communication.  Mahlon Loomis (1826-1886) claimed to have transmitted signals through the air in October 1866 between two Blue Ridge Mountain fourteen miles in Virginia using two kites as antennas. This first transmission without any independent witnesses was crossing an invisible border into modernity.
Laurent Montaron will restage this experiment at several locations between Manhattan, Brooklyn, and Governor's Island.
Friday, November 18, 2:00 pm — 4:00 pm
Saturday, November 19, 2:00 pm — 4:00 pm
Sunday, November 20, 2:00 pm — 4:00 pm
Performa 11, the fourth edition of the internationally acclaimed biennial of new visual art performance presented by Performa, will be held in New York City from November 1–21, 2011.